Data & Insights
We love massive loads of data. Let´s have it!  We analyse, visualise, transform en integrate data from a multitude of sources on a daily basis.
Why Data & Insights at OrangeValley?
Over 12 years trackrecord
State-of-the art implementation
100% GDPR compliant
Real-time insight in KPI's
Next level Data Intelligence Dashboards
Our Data & Insights team provides insights and solutions for a better understanding of your target audiences and with that better results throughout the funnel.
This is what we do: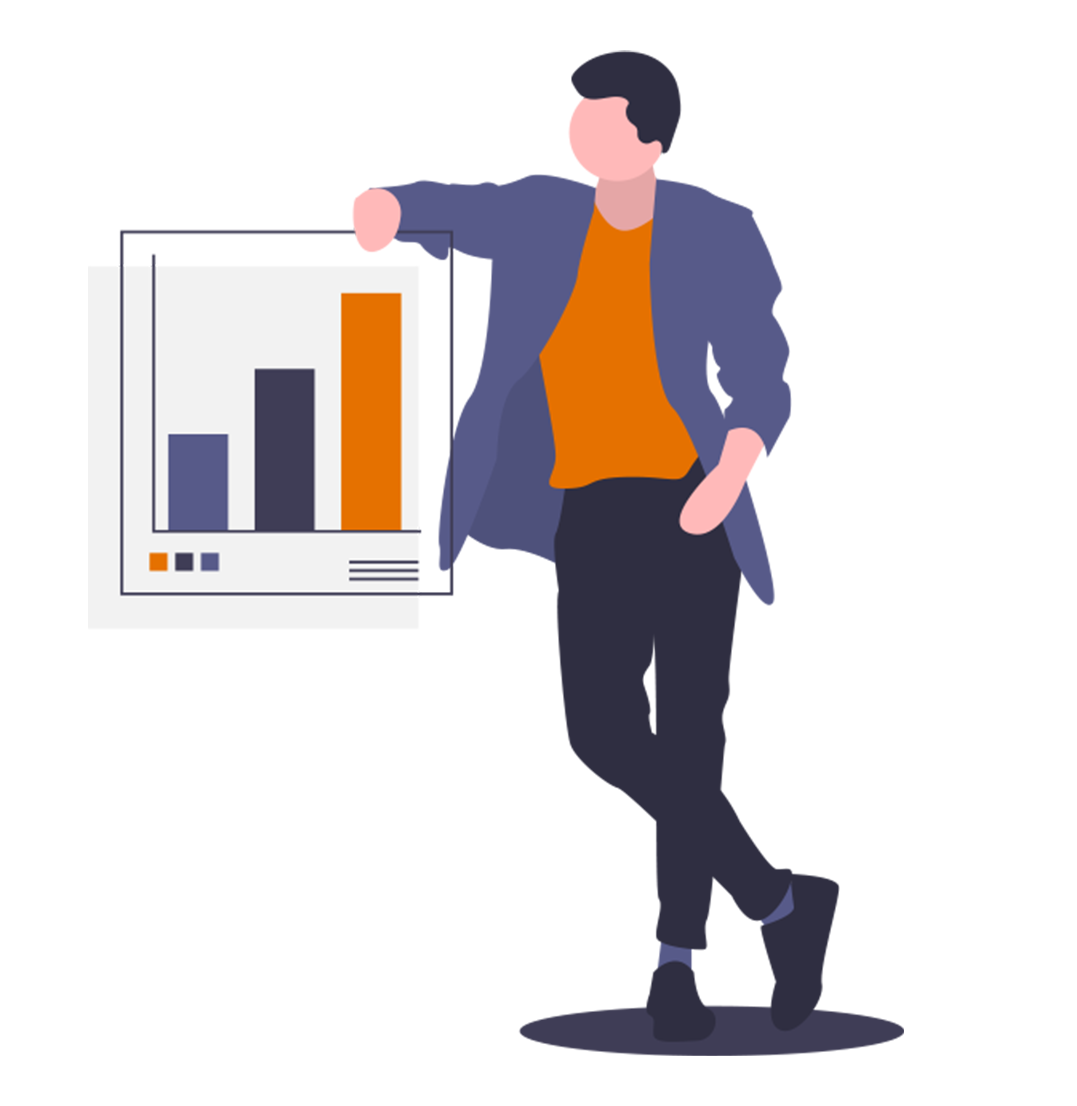 Data Intelligence
Nowadays we measure more and more elements of the behavior of your target group. Every visit, every transaction and every click is measured. On the one hand, the large amounts all contact moment data in the customer journey is becoming increasingly complex to understand. On the other hand, it is becoming increasingly valuable to extract powerful insights out of this data lake.
We believe in data-driven decisions. Want to know why one page performs better than another? Or why that one campaign yielded more last year than this year? With a clear data analysis you get answers to essential issues and you can convert this into actions, predictive models and eventual concrete improvements.
We answer the following questions, among others:
How is my online funnel performing?

Which pages contribute to my conversions?

What 'customer journey' is my visitors making?

How are my marketing channels performing?

What are the forecasts for next month/quarter?
Data Solutions
The Online Marketing landscape is continuously evolving when it comes to technical developments and options to target audiences based on data. At the same time, major tech parties and governments are working hard to use data in a responsible way towards the user. The Data Solutions team is a team consisting of a group of technical analysts who are particularly active at this intersection. They know how to get the most out of collecting as much data as possible and activating it, but within the limits of what is allowed.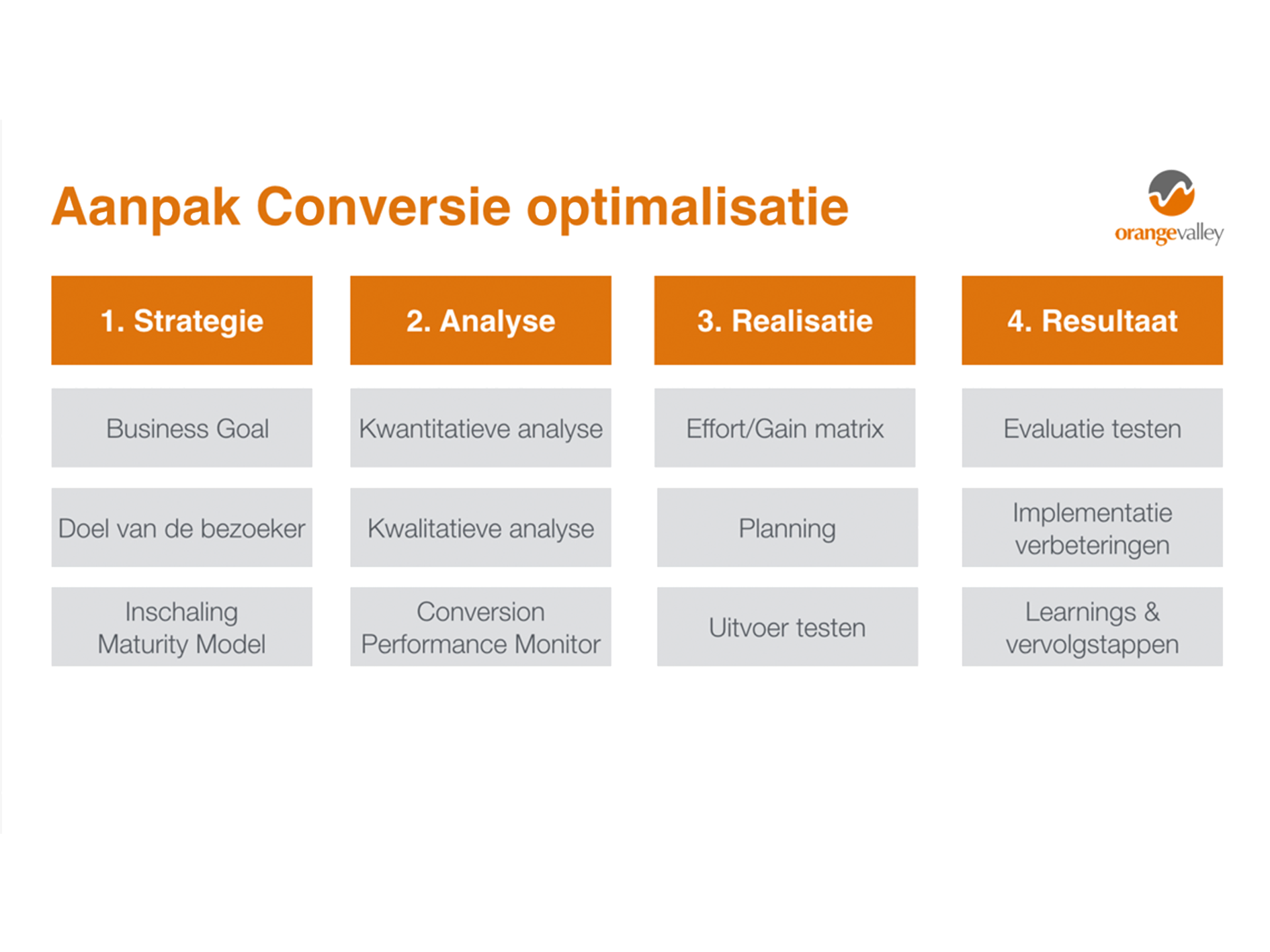 Conversion Rate Optimization (CRO)
Conversion Optimization is all about understanding your target audience. Understanding the behavior of visitors (groups) is an key factor here. Conversion Optimization finds the answer to the question of what motivates your target group, which criteria are important to them during the (purchase) process and what reasons has the target group dropping out. Understanding these, and more audience- and website-oriented, questions determine the success of your Conversion Optimization activities.
Our CRO approach
Our Conversion Optimization approach focuses on improving your total online marketing return. Data arising from the data intelligence team is an important starting point. From there we will define the hypotheses and performing A/B tests. We continuously make a trade-off between the energy we invest in optimization (effort) and the return that we expect from this (gain).
By testing you know for sure whether devised solutions actually make a positive contribution to your turnover. If not, you at least prevent something from being implemented that has no, or even a negative impact.
With our well-founded approach and the right tooling, we provide a structured approach with proven groundbreaking result.
Dashboarding & Reporting
Dashboards and automated reports provide continuous insight into the key results. Because data-driven decisions are continuously needed. A well designed and populated dashboard is user-friendly, fulfills a signaling function and is action-oriented.
Many of our dashboards are developed in Google Data Studio. We have a number of ¨off the shelf¨ dashboards but mostly develop custom dashboards. We also design and define custom dashboards in Tableau, PowerBI, Klipfolio and Looker. Is your visualization tool not listed above? Please feel free to contact us. We are sure that we can support you in this topic!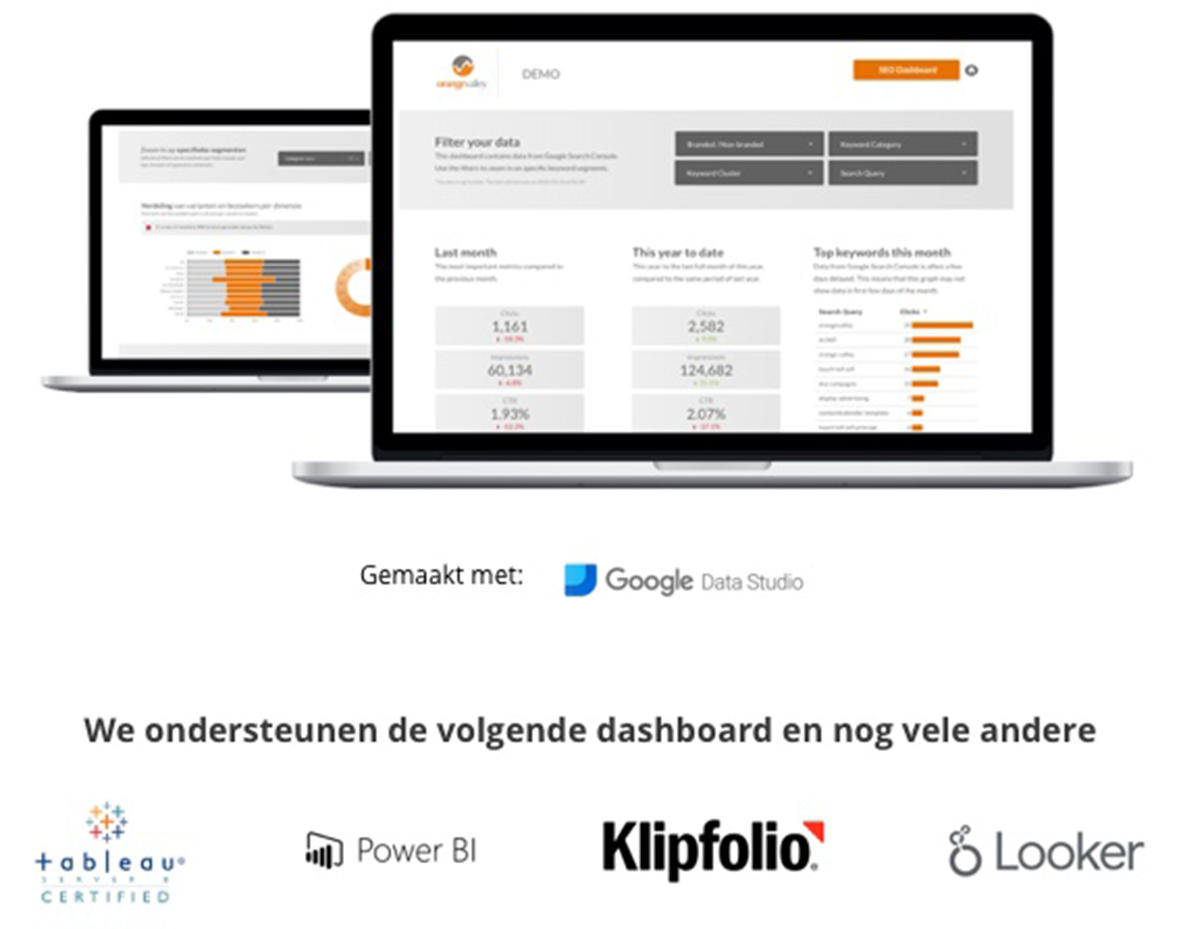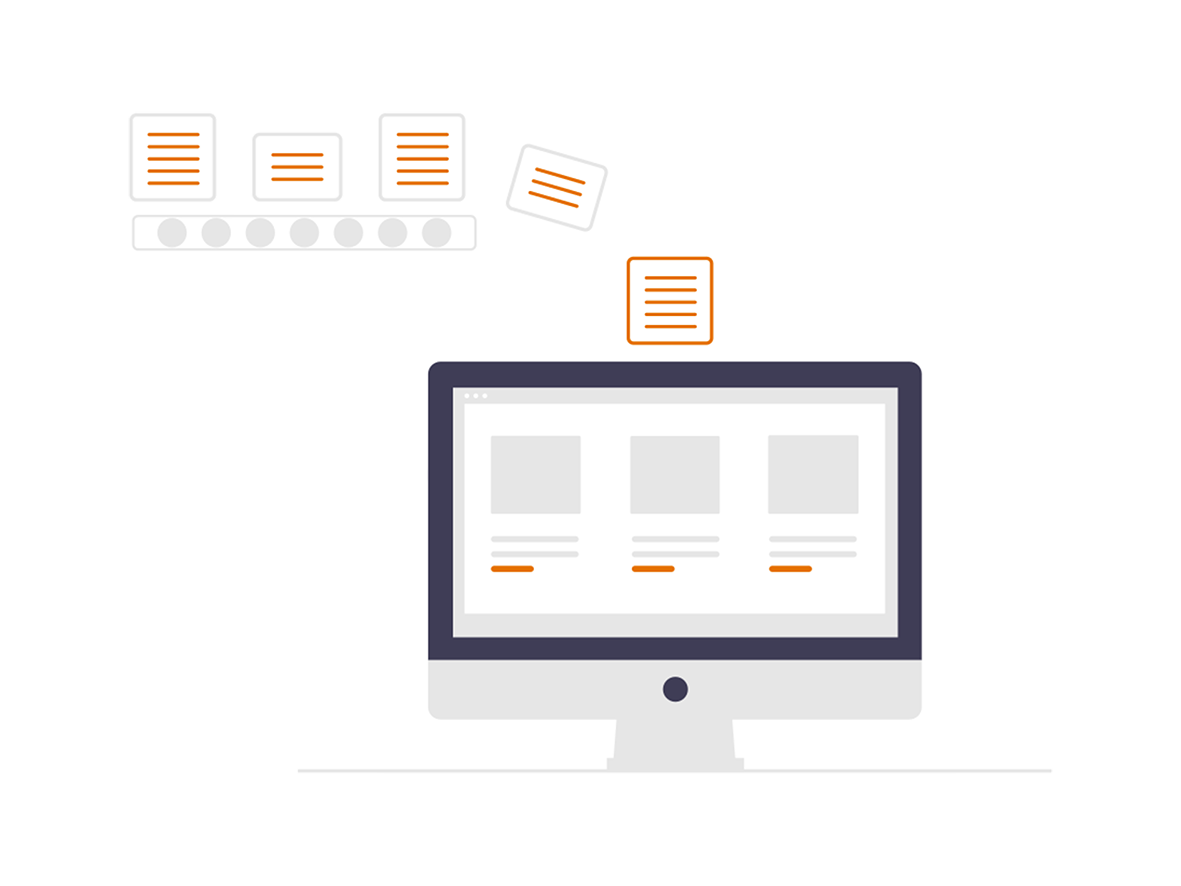 Marketing Data Warehouse
The collected data in digital marketing is fragmented in dozens of different data sources. A Marketing Data Warehouse (DMP) brings all this marketing data together in one place. This way you have a much better picture of the entire customer journey. You can perform analytics across all channels. And more importantly: you are ready for the future in which you can further personalize and optimize your marketing messages to your visitors and customers.
We build your Marketing Data Warehouse. We work with a multitude of environments such as Google BigQuery, Microsoft Azure and Amazon AWS.
Combine data sources
The strength of our data intelligence approach is that we can combine large amounts of data sources. If desired, we can do this so quickly that we can use real time insights.
Data sources we combine to create DMP´s:
Google Analytics and/or Adobe Analytics
Google Ads and/or Bing Ads
Google Search Console
Ads for Facebook and/or Instagram
CRM data
Offline sales
Email marketing tool
Data Science & Machine Learning
A Digital Marketer can leverage Data Science, a lot! With Data Science, new analysis techniques are used, often in programming languages ​​like Python and/or R. These programming languages hold the key to a new world. The world of external packages and data models you can project on your own data. Examples are machine learning and forecasting packages.
Our Data Intelligence Consultants uses the latest Data Science techniques to perform the following analyses:
Market Basket Analysis: which products are often bought and viewed together?
Customer Segmentation: which types of visitors can we distinguish from each other on the website?
Pagepath analysis: what are the most common paths on our website?
Forecasting: what results can we expect and when will a trend break?
Churn analysis: with which group of customers are we most at risk?
Conversion Probability analysis: which group of visitors and/or customers has the greatest chance of making a (repeat) purchase in the near future?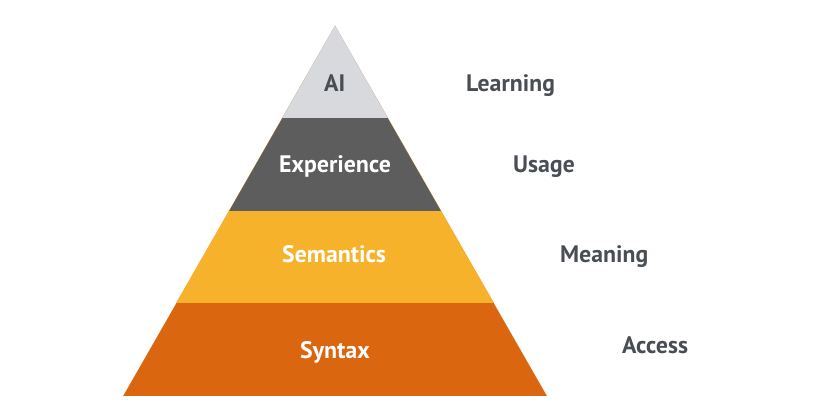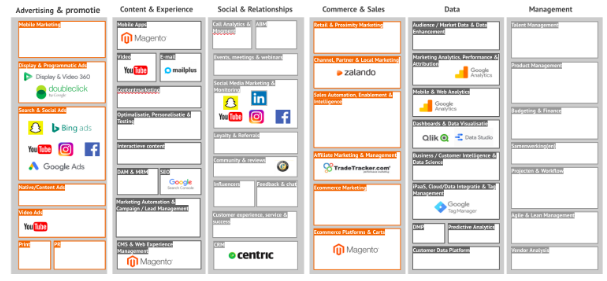 Martech Stacks
No business is alike and every project knows it´s unique needs. For this reason, we believe in offering a wide range of data management tools. Each tool(set) contains unique properties, suitable for your organization and marketing objectives.
We have extensive experience with the Google Marketing platform. In addition, we have ample work experience with the Adobe Analytics package, Microsoft package as well as solutions such as Snowplow in combination with Tealium.
With this tool knowledge, terms such as Data Warehouse and Data Management Platform (DMP) are well known at OrangeValley. Certainly in view of the future in the field of data collection, it is essential to have your affairs in order here as a company. Developments such as ITP and a cookieless world create urgency in the field of first party data collection. Links with CRM systems and other non-digital data sources are therefore within our knowledge and expertise.
Ready for more Data & Insights? Contact us!